Cup for feeding newborns and infants
You may feed your baby from a special cup for feeding newborns and infants. It should be transparent, fairly soft (easy to squeeze), have a scale and folded edge allowing for attaching it to child's lower lip.
LOVI feeding cup is one of the components of the LOVI Medical+ bottle along with the LOVI Dynamic Feeding Teat®.
How to the baby feed from a cup?
Feed the baby in a half-lying position, never let him lay down, as he could choke. Place the cup on his lower lip and wait until he puts the lip tightly under the cup flange and move the upper lip while suckling the milk. Gently squeeze the cup and tilt it so that the child suckled the milk and not drank it. Allow your child to suckle milk from the cup, do not pour it into his mouth.
In the first weeks of breastfeeding it is extremely important that you allow your child to suckle in a way as similar as possible to breastfeeding. Therefore, in the first 8 weeks, do not give him a bottle with a standard homogenous silicone teat. Shape and length of this teat are constant, and in contrast to your nipple, it does not elongate and shrink during suckling. This type of teat forces the baby to change the suckling pattern, disturbs active suckling and may lead to abnormal suckling reflex and breast refusal. In contrast, whole soft teats have a base that babies bite during feeding.

In the beginning you can use a specially designed professional dynamic teat® made of heterogenous silicone layers with a thin, soft tip and a firm, stable base, and recommended by speech therapists.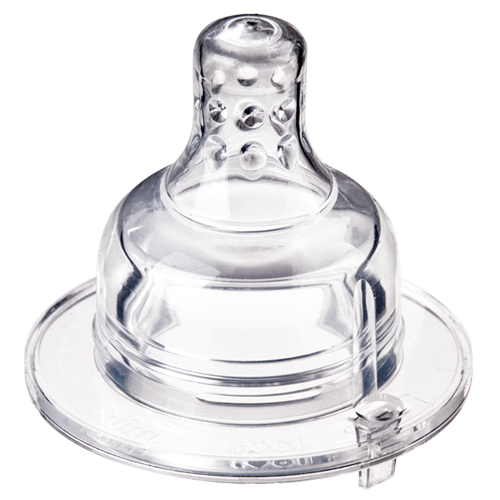 The teat does not interfere with the natural suckling reflex and does not prevent the return to breastfeeding, while enabling:
Proper coordination of suckling-swallowing-breathing as during breastfeeding.

Proper, active work of the lip and tongue muscles as during breastfeeding

Maintaining the suckling rhythm identical with the natural one.
These features have been confirmed by doctors in a medical examination on a group of 607 infants. Check the results of the examination >>
Alternative feeding of infants older than 6 months
Although your milk is still the basis of the nutrition scheme, at some point it is not enough for your child. There comes the moment of expanding his diet, learning how to chew, bite and drink from a cup. This is often the time when mum goes back to work and the child is under the care of a nanny or grandmother. He can then drink expressed milk from a cup, but should also be encouraged to drink water.
WHEN AND HOW TO INTRODUCE ALTERNATIVE FEEDING?
If the child can sit unaided, and has already started eating with a spoon, he can face the challenge of drinking from a cup. Some children may be six months old, the other will learn it only when they are one year old. In the beginning of teaching your child to drink from a cup it is best to use a non-spill cup. It is safe, your child will not choke, he will be able to control the fluid flow, and you will not have to change his clothes every now and then. When your child becomes more skillful, you can remove the flow-controlling valve.
WHEN A CHILD IS EIGHT MONTS OLD...
...he can start learning how to drink from an open cup or first use LOVI 360° cup that provides glass-like drinking but without spilling. Drinking from this cup allows the little one for more active exercise of lips, cheeks, jaw and tongue muscles, than drinking from a cup with a spout.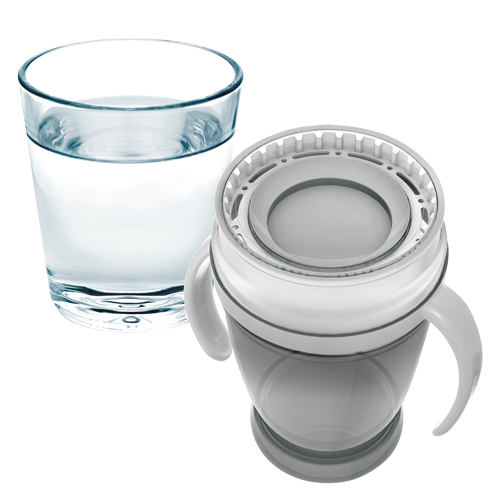 LOVI 360° has been deliberately designed as not a non-spill cup - after strong shaking or hitting the floor some fluid spills out, so the child learns to control his movements and prepares himself for drinking from an open cup.
Moisten the cup edge before you start the drinking lesson. This way you will make it easier for the child to suck the fluid - he will understand that the cup is used for drinking and not chewing or licking.