Introducing solid foods and weaning is an important milestone in a child's development. This new stage typically starts around 6 months old and lasts until the age of two. Before you give your baby their first solid foods, it's important to choose the right items that will help you. We offer advice on tableware, cutlery, cups, and other essential products to get you started.
Weaning: feeding essentials
Your baby may indicate that they are ready for their first solid foods by displaying certain behaviours, such as sitting up with support and keeping their head steady. If your baby is already able to sit up independently, you may want to look into buying a baby highchair.
Baby highchair
There are many different types of baby highchairs available: wooden, plastic, multifunctional, convertible, foldable, portable, modern, and classic. For sure you will be able to choose a highchair that perfectly suits your interior but remember that your baby's safety should always be a priority. A good highchair should be equipped with a safety harness, preferably a five-point, and should meet European standards (a proper certificate will ensure that).
A removable feeding tray is also a big plus. It will make cleaning easier and enable your baby to join you at the table for chats and bonding. The chair should also have a footrest to let your little one rest their feet while they eat.
Floor mat
When you start introducing solid foods, you can expect to find food scattered everywhere. If your baby makes a total mess while eating, buy a floor mat for their highchair. A waterproof mat will save you from having to mop the floor multiple times a day.
Bib
Introducing solid foods is a challenge for both you and your baby. Before your little one learns how to eat, food will be everywhere. A bib is a practical solution that helps you avoid having to change your baby's clothes after every meal. Choose a waterproof one with an adjustable neck strap and a pocket to catch bits of food and liquid.
Alternatively, you can choose an apron, i.e. a bib with sleeves. This is a good option when you are eating out and you don't have extra clothes for a change. We recommend baby aprons with elastic cuffs.
Cup
Weaning is also about learning to drink independently. A baby's first cup should be small, lightweight, and have comfortable handles to make it easier for the baby to hold. A great idea is to choose a cup with a weighted straw that allows your little one to drink regardless of the angle. Drinking from a straw promotes proper oral development. Your baby probably will be able to start learning to drink from it around 6 months. However, all babies are different. If your little one can't cope with a straw, just choose a cup with a mouthpiece and wait until they will be ready.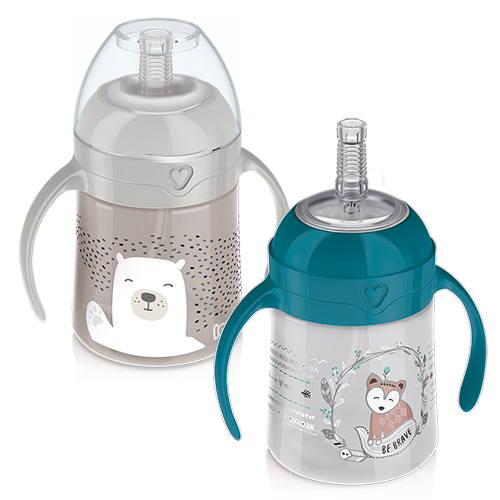 Spoon
With so many baby spoons to choose from, picking the right one can feel overwhelming. But the most important factor is the shape of the spoon head. It should be flat and non-profiled, like a spatula. You should be able to take it out of your baby's mouth in a straight line. It should also be quite firm; a soft spoon won't provide enough pressure and won't provoke the right response from your baby. A long handle will be an advantage; it will be easier to hold the spoon and take food out of a jar.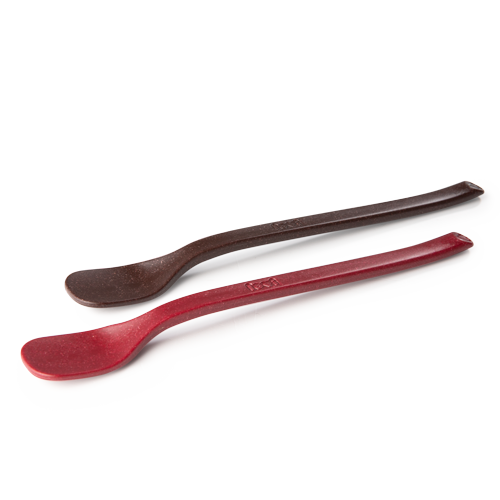 Tableware
It is a good idea to start introducing solid foods with a set of tableware, including a plate, bowl, and cup. The bowl will work well for eating soup and the plate for practising eating dinner. All items should be lightweight, with smooth, rounded edges, comfortable for the child, and easy for you to hold. Additionally, make sure the tableware you choose is BPA-free!