​
​
​
A new edition of Night&Day Collection!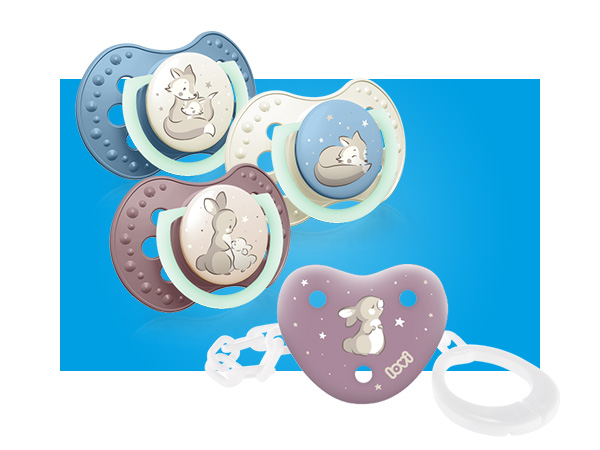 ​
Discover charming Night&Day collection from LOVI, which includes soothers and soother holders, available in two color lines. ​
Beautiful design is not the only advantage of this collection. ​
​
Dynamic soothers:​
are safe for babies who are breastfed - dynamic nipple is made of non-homogeneous silicone layer, which enables shrinking and expanding with the baby's suckling motions,​
have a symmetrical shape that is similar to that of the breast nipple,​
do not disturb the suckling reflex and the natural development of speech and bite patterns,​

nipple is made of high – quality silicone which smell and taste is not perceptible to the child,​

have a luminous handle, which makes easier to find soother at night.​
​
Night&Day soothers are available in different sizes, adapted to the age of the child: 0-3m, 3-6m, 6-18m and for older children 18m+ soothers with reinforced nipple, which is more resistant to biting. This is especially important in times of intensive tooth and gum development. ​
​
Soother holders:​
protect soother against dirt and loss, ​​

have a solid clip, which protects the holder against detaching from baby's clothing,​

have a safe shape, which eliminates the risk of scratching or hurting. ​​​

are universal, match most types of soother​