NEW!

Dynamic Soothers in new Jungle Vibes collection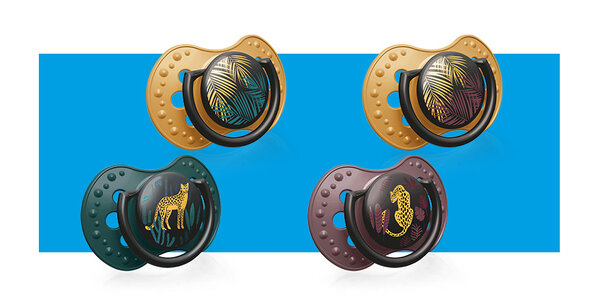 Discover the new energetic LOVI soothers collection, full of intense colors and animal motifs new LOVI soothers collection – Jungle Vibes. The new soothers are available in two unexpected color lines.
But design is not the only advantage of LOVI soothers:
- soothers are safe for babies who are breastfed - dynamic nipple is made of non-homogeneous silicone layer, which enables shrinking and expanding with the baby's suckling motions,
- dynamic soothers have a symmetrical shape that is similar to that of the breast nipple,
- do not disturb the suckling reflex and the natural development of speech and bite patterns,
- nipple is made of high – quality silicone which smell and taste is not perceptible to the child.
Jungle Vibes soothers are available in different sizes, adapted to the age of the child: 0-3m, 3-6m, 6-18m and for older children 18m+ soothers with reinforced nipple, which is more resistant to biting. This is especially important in times of intensive tooth and gum development.
Are you looking for unusual color combinations and inspirations from the wild world of nature for your baby? Jungle Vibes is a collection created for you and your child.